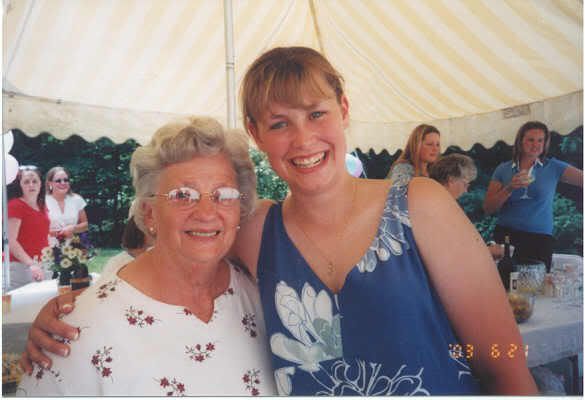 This time last year, I was laying with my dying grandmother. I didn't even think about the new year at all then. I remember announcing to gram that it was the new year, and then 3 hours later at 3:05 she took her last breath. I can only hope that this new year starts off better. It does seem to be getting a little easier, or you just learn to deal I guess. Now I drive past her house all dark, empty and cold, with a big for sale sign on the front yard. No more warm family gatherings, or the smell of wood smoke. Until some other family moves in and fills it with love again. I go through spurts, where I am really down and sad. Amazingly enough I am doing okay tonight. I did cry earlier thinking about her and this time last year. But you know she was in so much pain, I really am comforted to know that she is in Heaven and not in pain. I know its on most of my family's minds, and I think most of my family is keeping busy trying to think about what day it is.
Gram was like the foundation of our family. When she died, it seemed like we all crumbled a little and family was growing apart. She was like the glue, and is missed SO much. I think tonight I will toast to gram!
I usually make resolutions, but hardly ever keep them. Here are a few I have thought of.
1) Lose weight (
original
I know)
2) Clean my house and get rid of junk
3) Go to Church more & pray
4) Play with my kids more
5) Blog more
I could go on and on, but I want to try and keep these :)
Happy New Year!